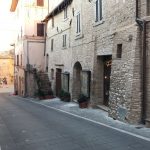 Tipologia / Type : Locale Commerciale / Commercial Space
Superficie / Surface: mq. 60
Zona / Location : Assisi Centro – Assisi Historical Centre
Prezzo / Cost: Trattative Riservate – Private Negotation
Classe Energetica: G
Locale commerciale di 60 mq, situato nel centro storico di Assisi, a pochi metri dalla Basilica di San Francesco e dalla Chiesa di San Pietro. Il locale al piano terra dispone della possibilità di due ingressi e una vetrina.
Commercial space of 60 sqm, located in old town center of Assisi, just a few meters from the Basilica of St Francis and the Church of St Peter. On the ground floor, the store allows for two entrances and a shop window.